In memoriam
Valeria Matranga
(1954-2016)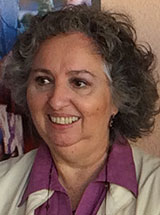 Valeria was a strong suporter and a regular participant of this meeting, as well as being a past organiser. You are warmly invited to read the short text that we published on the ABCD website.
Sergio Giannattasio
Alessandra Montecucco
Fund raising
The Alberto Monroy Association and the CNR-IBIM are seeking funds for a scholarship in memory of Valeria Matranga.
Last 25 April, our low-traffic Twitter account showed:
Our lives are richer for having known Valeria and for that we can only be grateful.
Elena Papinutto
Paulo Magalhães